Posted on 13th May 2015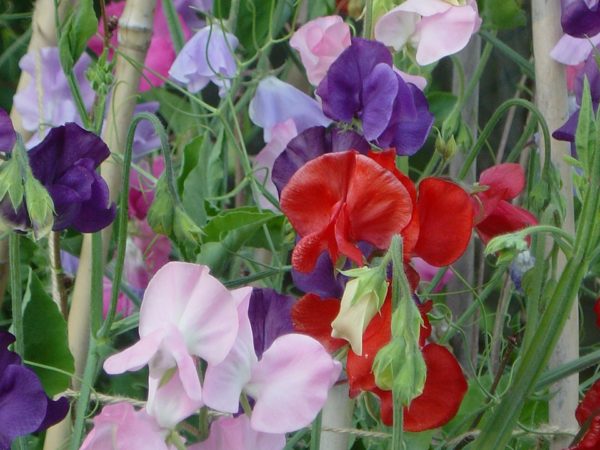 It is no surprise to me that sweet peas are so popular with their heavenly scent and wonderful range of colours. Sweet peas are not difficult to grow to provide a succession of fistfuls of cut flowers from early summer until well into the autumn. Sow individual seeds in spring into Rootrainers or Sweet Pea tubes and keep warm until seedlings emerge, then move, if necessary to give maximum light. When 10 – 15 cm tall plant out into soil that has been enriched with soil conditioner, garden compost or well rotted manure.
Sweet peas can be grown in a line, but look very attractive planted around an obelisk or a wigwam of willow or bamboo, planting 20 – 30 cm apart. Keep well watered and provide short twigs to help the shoots to start climbing up their supports and feed once a week with a high potash liquid feed such as Tomorite or Phostrogen. When the flowers start to appear gather them regularly and this will keep flowers coming along. If the foliage develops a grey mould on the foliage, the tell-tale signs of mildew, spray with a systemic fungcide such as Fungus Clear Ultra, give the plants an extra feed and flowering will continue. We supply pots of sweet peas in separate colours and mixed to make it even more simple for you to enjoy the pleasure of sweet peas in your garden.